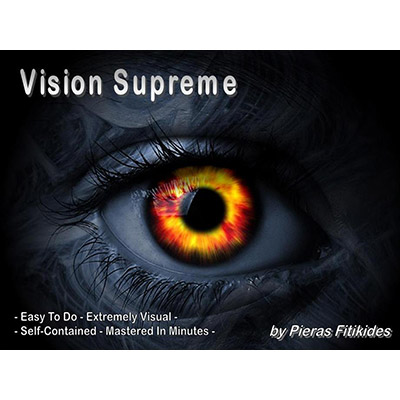 Description for this effect states "Vision Supreme is a revolutionary idea, based on a new principle, in which the thought of a spectator is found printed on a laminated piece of paper."
I don't think this is neither a revolutionary idea nor a new principle. You can replicate the effect using the old NW but the Vision Supreme has the added advantage of having the prediction in an envelope. I don't think it is fair to say that the prediction is "printed" on a laminated piece of "paper". Though the lamination will kill spectator's thoughts of having the prediction written after the spectator reveals the selection but the "paper" doesn't look like paper at all, especially when something is written on it. The copy I have has very poor lamination. The edges seems to be opening.
To be fair, I don't think this is poor item. There are many effects that can be used with this item; most of them are strong mental effects too. However, I'd rather use the traditional method as the laminated "paper" may be a giveaway for some spectators who have seen such "paper" on other products.
Overall, I think this is still useable, good to have but not necessary. Rating 3.5/5