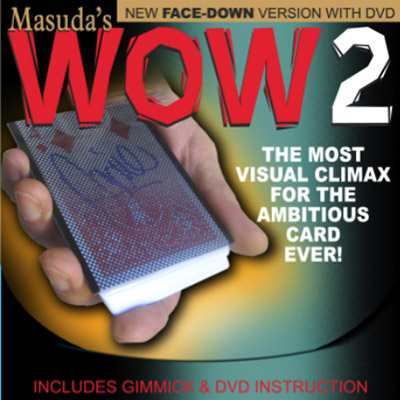 Wow 2.0 is a very clever gimmick. It looks good and it looks like instant trick photography.
Even the packing for this item is clever. The packaging sleeve that is used for this item is printed on both sides, one side for the face up version and one side for the face down version; thus, this can be used for either versions. You must be wondering why I mentioned this, well; it's clever that's why! But that's not the reason I mentioned it, the real reason is, the DVD that comes with this gimmick includes routines for the face down as well as the face up version.


I'm sure most of the card workers would already own the face up Wow gimmick. With the new face down gimmick, you can perform other routines with it. The demo will show how effective this gimmick can be. The routines taught in the DVD are very effective even though there not many routines in the DVD.
The best routine that I like would be Paul Gertner's routine. It uses a spectator's cell phone camera (or any other digital camera) and it will be a souvenir that they will keep not to mention that it is very easy to do too. The colour changing deck using the face down gimmick looks pretty cool too.
The routines shown in the DVD uses the ungimmicked Wow which is not included in this package. Though they are not necessary, it will be good to have as spectators would probably want to touch the Wow gimmick as they have never seen such things before. So, if you're purchasing this, be sure to pick up the ungimmicked Wow too.
For those who own the previous face up Wow, you can buy the face down Wow 2.0 as the DVD will include instructions for both versions. Recommended. Rating 4/5.