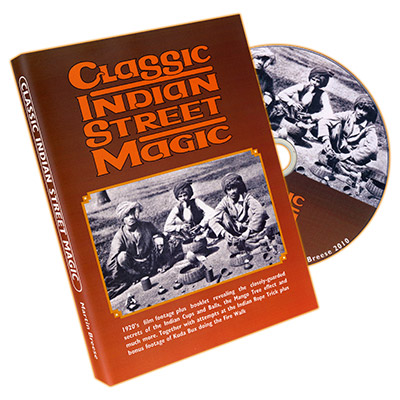 You won't be learning any magic on this DVD but you will see how the Indians performed their magic. They are unique in their own way and it can be a joy to watch these performances.
There are many types of magic and stunts shown here, these are rare footage which you don't get to see every day. The DVD has no conversation and is accompanied by some Indian music.
Magic includes, torn, burnt and restore string, producing streamers from the mouth (not the paper type), planting a mango seed which grows instantly to a small plant. 3 shell game using the Indian cups and balls' cup, this is a very nice version; it even ends with the production of many small balls.
With Indian magic, you'd expect to see snake charmers too. One of the stunts in this DVD is "Lifting a stone with eyelid". This is done by tying the rock wrapped in cloth with a string and then attaching the other end to the eyelids. As the film is in black and white, I am not too sure if the string is being tied to the eyelid, but it looks to me that the end of the string has some sort of attachment and the eyelid is closed tight enough to withstand the weight of the rock. Fire walking is also included here; it even shows a failed attempt by a young doctor.
The picture quality is not fantastic but you will still be able to see what they are doing. As for the booklet, the tricks in the booklet are
Cups and balls
Bamboo sticks
Ring on the stick
Ball in the glass box
Bunder-boat
Bowl of rice
Coloured sands
Rope trick
Egg bag
Swastika
Dancing duck
Mango tree
Basket trick.
These tricks were also revealed briefly in the booklet.
I think this DVD may not be for everyone but it sure is an eye opener to see some of the tricks/ stunts done by Indians. This is definitely recommended for the magic historian and all who likes Indian magic. Rating 3.5/5.