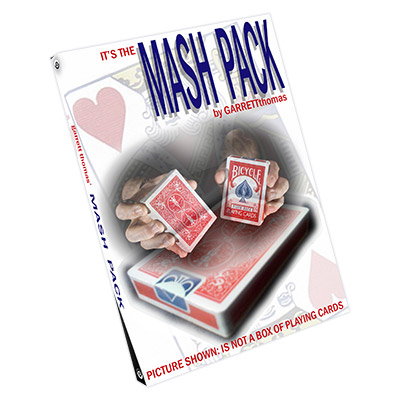 I always like Garrett Thomas's work, especially his coin work. When I first saw this trailer, I was fooled. It looks really good in that demo.
After I got my hands on the real thing, I was smiling to myself about how ingenious this gimmick is. There are many versions of this effect in the market and all of them require a gimmick and you will need to ditch that gimmick if you want to continue using the deck for other effects. For Thomas's version, the deck itself is gimmick and it is very well made. You can show the deck casually by spreading after the card box has been transformed into a deck. You can probably continue to use the deck without the need to switch it, but I think the number of routines using that deck will be limited. The DVD showed Garrett Thomas performing this to a group and the reaction from this group is rather tepid. I don't know if it's due to the personality of this group or Thomas' performance. Anyway, this is not important.
Besides the main effect, there are other effects which are also taught in the DVD. You will not be getting just 1 gimmick deck but 2 different gimmick decks. I will not disclose the actual deck used for the card box to deck effect. The other accompanying deck is a deck that has the design of the card box printed on the back of the playing cards, the box for this deck is also specially printed. You will be able to use this deck for other routines as well.
So for a MSRP of US$40, you will be getting 2 well produced decks as well as a DVD. I'd probably not use this if I were to do a card box to deck effect, there are other version which I think is more appropriate. But then again there will be tradeoffs if you were to use other version as compared to this. The plus point for Garrett Thomas's version is that you will be getting 2 decks and these decks can be used for other effects. Rating 3.5/5