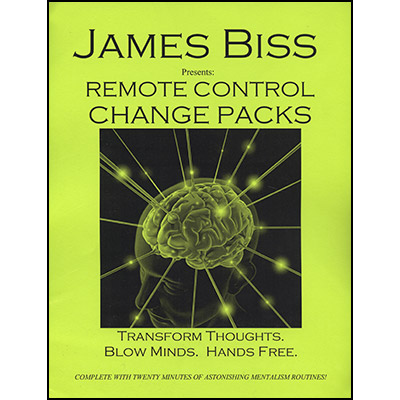 This is a switching device similar in operation to the double envelope described in Tarbell Course In Magic Volume 5 as well as Ted Lesley's Teleport Envelope described in his book "Paramiracles".
Instead of paper, it is made of durable poly plastic material and is similar to the shipment carrier envelope used by courier companies to transport A4 sized documents. The thick plastic material makes whatever item that is loaded in the secret
compartment difficult to see and feel. A major advantage is the perforated tear strip. When the envelope is sealed, the most convenient way to open it is to pull off the tear strip. Due to the special construction, this leads directly to the secret compartment. The operation of this envelope is so safe that you can leave it entirely to a spectator – hence the name "remote
control" change pack. The spectator can personally place a prediction (unseen) into the envelope and seal it. Later on, she can open the envelope and the prediction is changed without her being aware that she is taking out a different piece of paper from a different compartment. This puts it way ahead of the traditional switching envelope made of paper. The Remote Control Change Pack was mentioned in the originator's books "Messing With Minds" and "Mind Blowing". You receive 20 Remote Control Change Packs already gimmicked and ready to go straight into your shows.
You also receive a 14-page written instruction booklet. In it, the originator, James Bliss, describes two effects for use with the change pack. "Taking Pictures" is a drawing duplication routine while "The Big Newspaper Prediction" is a headline prediction effect. Both of them are from the professional performing repertoire of James Bliss. This is evident from the many tips and ideas given in the manuscript, such as:
• How to dramatically reveal a drawing
• How to ensure you do not forget what you secretly see in the pieces of paper
• Why using the Remote Control Change Pack makes a fitting ending to the drawing duplication routine
• Why it is better to draw a newspaper headline than to write it out in words
• An ingenious method of using a mini tape-recorder to reveal a newspaper headline
You get practical professional advice plus a revolutionary product.
5/5 stars rating