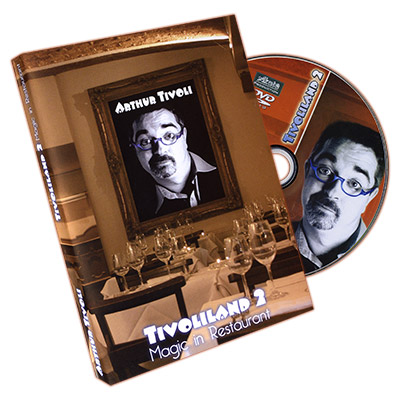 This DVD was recorded in a real restaurant. You can choose the languages (English or French) in the DVD. The performance and explanation is in French and if you were to choose English, it'll be a voice over. At times (during the explanations), Arthur's voice is in conflict with the English voice over. This can be annoying at times as you are hearing 2 voices at one time.
The routines in this DVD are grouped into 3 sets. You can perform these sets to tables that are near each other without repeating effects that were performed before. The routines in the DVD are simple to perform, making a restaurant performer's job easier; they'll just need to concentrate on the presentation. The most difficult move in this DVD would be the Mercury fold, which most card workers will already know.
The routines blend well in each set. Certain sets need to be performed when you are sure that you will not be disturbed by the service staff. There are some effects that starts early at the beginning of the set but will conclude at the end of the set.  An example would be the bill in the cap. The bill is vanished at the beginning of the set and will only be produced at the end of the set. But you can always change it to suit your needs.
All the effects taught here are easy to do and they are workers. You'll want to buy this to learn how to routine your effects. Arthur is a very good teacher which explains everything in detail. This DVD is recommended. Rating. 3.5/5
{extravote 1}