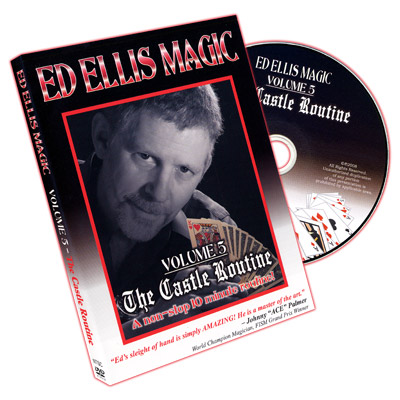 This ten mins routine consists of the 4 aces being lost in the middle of the deck and appears at the top of the deck several times. The other phase is an ambitious card routine with an addition of a card to pocket. For the finale, a ring and a rubber band is used to locate a signed card.
The explanation part is one hour long and the following are taught in the explanation segment.
Giant fan control Turn over pass  Pitch Change
Five Card lift  Aces escape  Ringnature  
Take 5   Center Double  In hand change
Hit turnover  Fan escape  Y production
Ellis cut control  Card to pocket    Classic force
One hand change 
Ed Ellis is very proficient in his sleight of hand. Everything he does is very smooth. You can break this ten mins routine into several phases to suit your needs. The explanation are very clear and you would not have any problems understanding what he is trying to teach. 
Recommended for card workers. 4/5
{extravote 1}