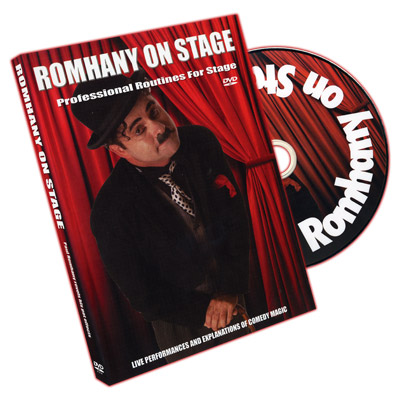 Paul Romhany is an internationally acclaimed magician, having performed in numerous theaters, cruise ships and on televisions all over the world.   He is most famous for his Charlie Chaplin act, in which he dresses up as the silent classic character of years gone by, and performs visual magic without patter.
In this DVD, you get to see snippets of his Chaplin act.  This comprises ladder form case, linking coat-hangers, unending silk production from pocket, cut and restored rope routine, Ricki Dunn's drink trick and his levitating broom.
Paul performs and explains the following effects:
• Rope Routine – an adaptation of the George Sands routine and features rope with 4 ends, sliding knots, transposable and detachable ends.  Paul also discusses the type of rope he used.
• Newspaper / Umbrella Routine – skeletal umbrella to umbrella with newspaper fabric.
• Dream Holiday – an entertaining prediction effect in which he predicts the destination, the cost as well as the name of a lady a spectator is going to take to a dream holiday.  Paul discusses a couple of subtleties such as how to do the effect without using an expensive wallet, or having to resort to double writing.
• Clean Sweep – this is Paul's version of the Fred/Oscar/Phil trick.  A randomly named card correctly identifies an object hidden inside a paper bag.  Paul discusses the use of only one deck to accomplish this effect.
• Linking Coat-hangers – this is a performance only with an invited spectator on stage.
These are some of Paul's favourite routines that he uses in his professional acts.  Paul is an accomplished magician and you can see the entertainment value of all his performances in the DVD.  The DVD is well produced and it is difficult not to be able to find as least one item that you can add to your performing repertoire.  (4.5/5 stars rating)

{extravote 1}