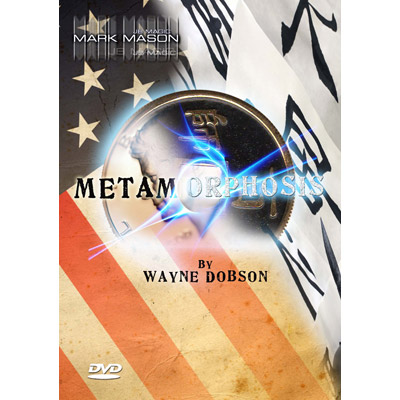 This is a quick and visual close-up effect.  Performer shows a spectator 2 different coins: they are a half dollar and a Chinese hole coin.  Spectator can examine both coins.  She places both coins inside her closed hands.  Performer takes the half dollar from the closed hands and places it on top of the back of her hand.  In almost an instant, the 2 coins change places!  Once again, the spectator can examine the 2 coins to her heart's content.
You receive a professional quality instructional DVD, a half dollar, a red colour hole Chinese coin, pocket wallet, business cards, and a couple of gimmicks, one of which is precision-made.
The trick is performed and explained by Mark Mason.  Mark is an excellent performer and has a nice presentation for this effect.  There is a bonus section where Mark explains another simpler version.  The trade-off is that the 2 coins cannot be thoroughly examined at the beginning, although that can be done at the end of the trick.
If you like quick visual magic for walk-around, this is for you.  (4.5/5 stars rating).

{extravote 1}