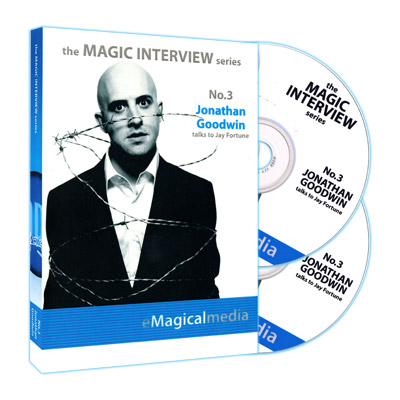 This is a set of 2 audio discs.  Jay Fortune interviews a young escapologist and magician, Jonathan Goodwin. 
In a media such as this that appeals only to your ears and not your eyes, you should not expect the explanations of tricks.  In fact, when you get to know more about Jonathan Goodwin, you will realize that he does not consider himself as a magician, but an escapologist.  He does not like magic and the magic fraternity at large.  This is what makes it interesting to hear from this controversial man.  What, according to Jonathan, is wrong with our magic art and the magic world?  When I hear what he has to say, I can concur with some of the things he observed, but not all.
For example, I do go along with him when he argued against the popular saying that "a magician is an actor playing the part of a magician".  There is indeed a significant difference between acting and performing.  Jonathan hates the rigid structure of a magic trick.  If magic were real, one should be able to do magic anywhere and with any thing.  From here, Jonathan talks about using creativity.
He certainly practices what he peaches.  Jonathan created and starred in the TV special "The 7 Most Stupid Things To Escape From".  What can be more creative and unique than to escape from a confinement with thousands of bees, strapped to the outside of a car going through a car wash, buried inside a coffin beneath tons of concrete, constrained on a crane swung into TVs, and other "stupid things".  Thankfully, his escape from the inside of a dead cow (read that again!) did not get to be aired on TV.  Jonathan shares his ideas on not escaping from death but from harm, and his toleration of pain.  You cannot help but agree with him when he explains the negative impact of Russian Roulette.  This led him to design his escape from the gallows in "Death Wish Live", and he almost killed himself in the show in front of live audience.  To prove that he is the master escapologist, he challenged his interviewer to retrain him with Gaffa-tape in the radio studio.  You can hear his triumphant escape within the 20 seconds time period that was given to him.
If you do not wish to be just one of the "run-of-the-mills" magicians, you need to seriously think about your magic performance.  After hearing this interview with Jonathan Goodwin, you will want to carefully think about all aspects of your magical performance so that you can become that extraordinary magician.  (4.5/5 stars rating)
{extravote 1}