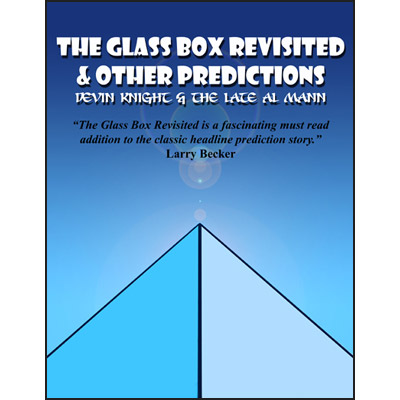 To revisit an effect suggests that that "effect" is worthy of a second look, improvements and refinements.  Indeed, it is!  The Glass Box Prediction has earned Devin the world record for being the magician with the most publicity with a headline prediction.
"The Glass Box Headline Prediction" was first released by Devin Knight in 2005.  It came with the glass box and with instructions printed in red blood colour paper.  This was to prevent the instructions from being photocopied.  However, to read the instructions themselves, and all of 26 red pages, can make your eyes go red!
Now Devin has added in advanced techniques and refined his original instructions in this new publication.  It is comforting to know that the printing are done on the usual white colour paper. 
In effect, you give a VIP a clear transparent box containing 3 predictions weeks in advance.  The box is sealed with tapes all around it.  You never touch the box again until the day of your show when the VIP brings along the sealed box.  In front of everybody, the VIP takes out the 3 predictions – again, you never touch the predictions – all 3 predictions are found to be correct, including one headline found in the day's newspapers.
The new publication contains the original text, but with much refinements, and a Bonus Section entitled "Lies, Damn Lies and Psychic Lies!".  As with Devin Knight's writing, everything is clearly explained.
It contains the history of headline predictions and Al Mann's original glass box secret.  Devin discusses the various methods of carrying out the secret work, including the use of a secret confederate, and most importantly, the psychology that goes behind each method.  He explores the kinds of container to use, how many items to predict, and what types of paper to write the predictions.  It is important to know what headlines to predict and what should not be predicted, and why – should you predict a disaster, a burglary, a death, or a rape?  What about a winning lottery?  New technology can also be taken advantage of – eg. the internet and Blackberry devices.  Devin reveals some very powerful after show techniques to get a really big news story.
The Bonus Section is meant for experienced and serious mentalist or psychic.  Devin delves into methods that can be termed as controversial, but these methods can enhance your reputation as a real psychic.
The price is high for a spiral bound book of a little over 50 pages, but getting yourself a headline publicity in the newspapers and other media is priceless!  (5/5 stars rating)
{extravote 1}