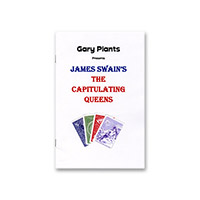 Capitulating means to give up resistance. The effect: Spectators are shown 4 queens. The backs of the queen are shown to be different except for one. One at a time, the queens are shown to have a different coloured back. At the end of the routine, all the cards are shown to be different and they can be examined.
You will receive 4 cards with different backs and a gimmick card and also the instructions booklet. The moves needed to perform this effect is not difficult. There are no illustrations in the booklet but this effect is straight forward and the instructions are easy to understand.
A nice effect that is not too difficult to do.
Rating 3.5/5
{extravote 1}