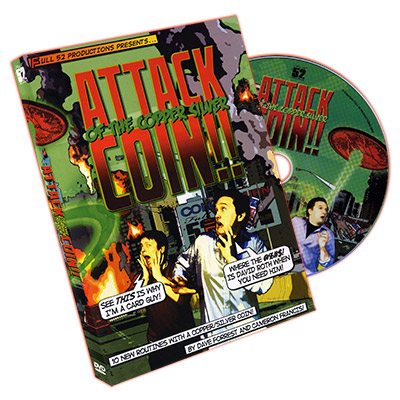 The DVD starts with a very funny intro. A total of 10 routines (nine to be exact as one of them is a variation) and a bonus card routine that utilize a gimmick coin that you can make by yourself.
When you buy this DVD, you should already know that you need a copper silver coin to perform the routines. I like all the routines except for Opposite Attract which I feel is too confusing. Apart from this routine, the rest of them are great. Some great thinking in the usage of this gaff.
There are no difficult sleights here, you need to be able to do a classic palm (one of the routines requires you to be able to classic palm on both hands), a Bobo switch and a shuttle pass to do the effects.
The only downside (nothing to do with the routine) is the video quality. Cameron Francis and David Forrest takes turn to film each other and the audio can sometimes be too soft to be heard. The music prior to each routine is too loud, while watching the video, I had to turn the volume up to hear what they re talking about and turn the volume down before the start of the chapter. But having said all this, this is just a minor problem. You'd learn many things in this DVD.
Cameron Francis and David Forrest are a funny duo. I truly enjoyed watching the DVD and also learnt some interesting routines too. I'm sure coin workers will like it too. If you happen to have the gaff sitting in your drawer collecting dust, it's time to take it out and learn from this DVD. There will be something suitable for everyone.
Recommended 4/5.
{extravote 1}