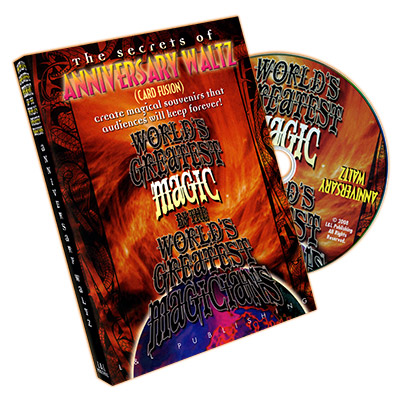 Anniversary Waltz (World's Greatest Magic) - DVD (DVDWGANNIVERSARY)
There are a total of 5 routines in this WGM DVD.
The Anniversary Waltz - Doc Eason
Doc Eason's version uses only 2 DL and a gimmick card. The routine is easy to understand and it looks very fair. As long as you can do a DL, you'd have no problem doing this routine. Doc Eason tips some important and nice subtleties here.
Card Fusion - Jean-Jacques Sanvert
In this version, you'd need 2 gimmick cards. Some sleights required here. You can choose to do this to a single spectator or to a couple. There are many magical moments here and this routine looks magical.
Hula-Fusion - Carl Andrews
This looks similar Doc Eason's routine (which is what Carl Andrews based on) except that this routine does not require any gimmick card. The routine can be done impromptu with a borrowed deck.
Anniversary Waltz - Garrett Thomas
I like Garrett Thomas but I find his version of this routine a bit boring. He uses the same gimmick card as Doc Eason's. It still looks very similar to Doc Eason's version. Garrett Thomas' version is too slow for my liking. However, he does add some nice subtleties to show that the signatures are on separate cards.
The Wedding Test - Etienne Pradier
This is similar to Jean-Jacques Sanvert's version. The good point in this version is that the chosen card can be examined just before they are signed. Pradier has device a way which looks really fair to a spectator. The rest of the routine are again similar to the previous routines. 


In summary, the routines here are very similar to each other; you'd probably want to combine some of the moves to suit your style. IMO, I think Doc Eason's routine is all you need to perform this effect.
Rating 3/5
{extravote 1}