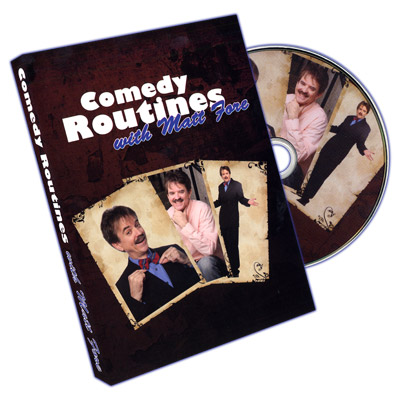 Frankly, the cover of this DVD didn't excite me. I didn't look forward to reviewing this DVD. Fortunately, I was wrong. I totally enjoyed watching this DVD.
There are certain things in this DVD that some of us may never be able to master, such as imitating Matt Fore's character. But this DVD is not about duplicating his character; it is about developing a character that may make your audience laugh.
The routines in this DVD are not earth shattering routines, but these are workers and will elevate your performance level. They are not difficult to do but you'd need to purchase the props from magic shops. The routines are suitable for audiences of all levels. He did them in a company function, a church and even a kid's party. One of them even got him a standing ovation.
Matt Fore didn't reveal the workings behind the marketed items as he feels that it is not ethically right. What he does is to add his style to the effects and make it more enjoyable to watch. Some of the routines are explained in detail on the set-up/ preparation etc. Some routines are just performance only, e.g. the Chinese Sticks routine as the performance clearly tells you what and how to do.
So, if you're thinking of injecting some fun in your performance, then you'd need to get this DVD. I'm sure you'll enjoy watching it as much as I do.
Recommended, rating 4/5.
{extravote 1}