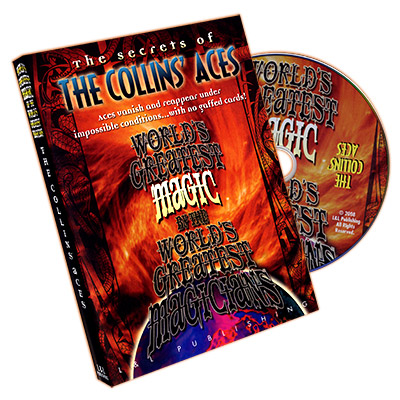 There are 6 versions of Collins Aces in this collection.
Spelling Collins' Aces - Martin Lewis
Martin Lewis's version ends by spelling to find the aces. No gimmick cards used in his version. Some simple sleight and setup is needed to accomplish this routine. The routine is simple and easy.
Collins/Lewis Vanishing Aces - Bill Malone
Bill Malone is very entertaining. His routine starts with the production of 4 aces (Steve Dobson's Flip out Flourish) which looks really cool. His version of the Collins Aces is similar to Martin Lewis's. Malone adds a few moves which makes it more magical and flourishy. The explanation is very detailed making learning a breeze.
J. C. On Collins' Aces - J. C. Wagner
There is no spelling sequence in this version. This version looks difficult to do but all you need is know how to do a DL and an Emsley Count. Some phase looks startling and magical. The best thing is about this version is there are no set-up. You can do this impromptu.
Spelling Collins' Aces - Michael Ammar
This is the same version as Martin Lewis's version. The only difference (which is not significant) is Ammar allows the spectator to choose the number of times the performer cuts the deck. However, the explanation is more detailed than Martin Lewis' as there are different camera angles used for the explanation.
Collinspell - Alex Elmsley
This version is the most difficult and a bit more technical there the rest of the routines in this DVD. There are no setup needed and thus can be done impromptu. The shuffle has to be precise in order to make the spelling work.
Collins' Aces – James Swain
The routine starts with the production of the 4 aces (which is not explained), followed by the Collins' Aces and ends by finding the Aces through a Poker deal. Nice but need a bit of work to accomplish it.
I think this is very nice DVD on this routine. You probably won't do all the versions in this DVD but you have a choice to choose which routine which most suits you.
Rating 3.5/5
{extravote 1}