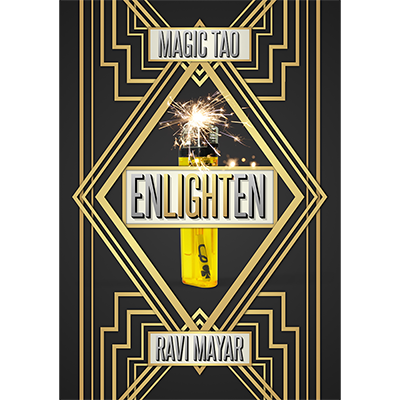 Objects in impossible locations. Enlighten is one such effect. There are many effects using lighters and Enlighten is one that combines the use of playing cards. The basic routine is a torn corner of a playing card vanishes and appears inside the lighter.
Before I watched the DVD, I have not watched the demo or read the product description of this item. For the first 20mins, the DVD teaches you how to prepare the lighter, there are several similar methods to prepare the lighter. So far, I still don't know what the effect was. After continuing to watch the DVD, Mayar finally performed the basic routine which last for about 1 or 2 mins. While I was not really impressed by the routine, layman may find it magical as the torn corner of their selected card is inside the lighter.
Several routines are taught and most of them are rather similar. Some routines uses flash paper which I find it to be effective as fire adds mystery to the vanish and appearance of the torn corner. Another routine is where the corner ends inside the lighter is then taken out and hands over to spectator for examination.
I think it'll be fun just by preparing the lighter, I always like such stuff. Mayer teaches a method to vanish the corner and credits it to Joshua Jay. I think that method is called The Pentium Vanish by Elvind Lowig found in his book Stand Up Coin Power. At the end of the DVD, Mayer shares on how you can remove the label on the lighter by using lighter fluid. Lighter fluid is effective, but I think a better method is to use WD40. Peel it and spray it and then clean it. Simple.
Anyway, this could be a fun routine for laymen. I'm rather mix by this, probably due to my view as a magician. A laymen might defer from my view.
Rating: 7/10