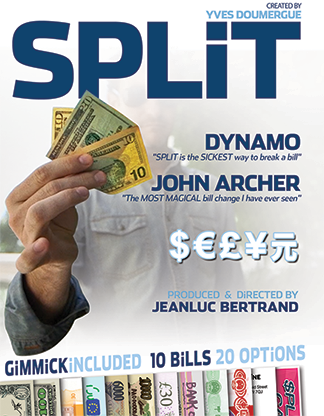 A bill instantly becomes 2 different bills when it is pulled. When I saw the trailer, I was very excited because the effect really looks like real magic and very visual. John Archer and Dynamo were featured in the trailer making the effect look even more interesting.
Unfortunately I was very disappointed upon receiving the trick. It costs around sixty dollars. For this price, I expected a lot more from the product. As the gimmick is on the dollar bill, you cannot use spectator's bill to perform this effect. The product comes with ten fake waterproof bills (which I find pretty useless as it would took more organic with making the gimmick with real dollar notes), material (to make the gimmick) and a link to an online tutorial about ten minutes to teach you only how to make the gimmick. They did not cover any tips on the presentation or even the handling. The instructions are rather poor, although you should be able to comprehend after watching it repeatedly.
The gimmick was not very difficult to construct but still take some effort to perfect it. The final appearance of the two dollar bills is not 100% examinable, only one can be handed out for examination. Please note that if you appear two bills at the end of your effect, you will have to cut up one bill initially to construct the gimmick.
To sum it up, personally I feel that this effect cannot be performed close-up commercially and especially not under bright lights. The product is simply over-valued. The instruction video was very disappointing to me. Nevertheless it is a great idea and will be suitable for anyone who wants to make a fantastic video magic performance or perhaps a parlour trick.
Rating: 6/10