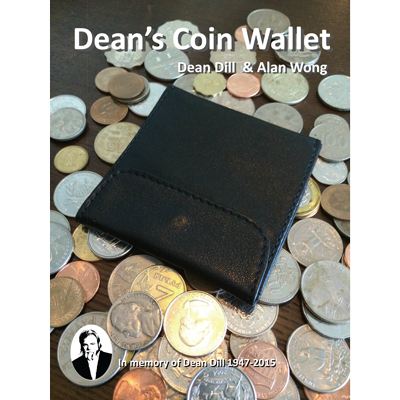 "Dean's Coin Wallet" is actually a black colour coin purse measuring 3.5" x 3.5" square. It is made in leather and has a flap with a metal snap button. It is a change purse and is therefore double-sided, unknown to the audience. It is said to be Dean Dill's favourite coin change purse, and was used often by him. Dean used it to switch between gaffed and ungaffed coins or between 2 different sets of gaffed coins.
You receive the well-made genuine leather coin change purse. It comes inside a beautiful black box. You also receive a one sheet of printed instructions that contains Michael Weber's professional routine.
In this routine, a spectator names any amount of loose change not exceeding $1. The coin purse is shown to contain that exact amount of coins named by the spectator. By the use of a clever ruse, the purse can be shown to contain nothing else.
The purse can be used to switch billets. For example, 4 billets representing 4 outs are in one side of the purse. When the correct billet is taen out, it is then nonchalantly replaced in the other side of the purse, proving the purse to contain nothing else.
You should be able to find other uses for this beautiful purse.
Highly recommended!