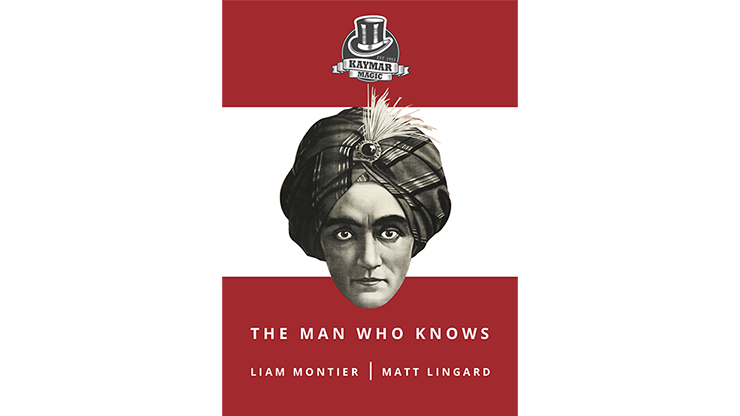 "The Man Who Knows" is a prediction effect using a deck of cards and some miniature posters of past magicians.
Here is how the effect looks. A prediction envelope is set aside. 5 colourful miniature posters of past magicians are shown. They feature magicians such as Thurston, Kellar, Alexander, von Arv and Houdini.
Each of these posters is placed inside a small envelope. The envelopes are mixed around and one randomly chosen by a spectator.
A deck of cards is shuffled and then dealt one card at a time onto the table. At an point she likes, the spectator inserts her chosen envelope into the deck. The envelope is therefore trapped somewhere in the middle of the deck. The card next to the envelope is taken out as the card chosen randomly by the envelope.
The spectator takes out the postcard from her own small envelope. Her chosen mini poster is of Alexander, "the man who knows". The audience's attention is draw to the prediction envelope placed earlier at the start of the trick. The performer takes out the content of the prediction envelope. It is a folded poster. When unfolded, it shows a large poster of Alexander. This poster differs slightly from the small one. This one features a large crystal ball. In the crystal ball is an image of 4 of clubs. When the slected card is turned over, it is also the 4 of clubs! It is a double prediction! Alexandar is indeed "The Man Who Knows" everything!
You are supplied with everything you need to perform this effect, except the deck of playing cards, which can be borrowed.
You are provided with the 5 mini magician posters, each measuring 3.00 X 4.25 inches, and a large Alexander poster measuring approximately 8.5 X 12.0 inches. All the 6 posters are nicely printed in full colour. You are also supplied 5 small envelopes for the mini posters and a larger envelope for the folder large poster. Also included is a nicely printed booklet of instructions and a link to an instruction video of Liam Montier performing and explaining the effect.
This trick scores high because of its unique props, which will attract immediate attention from the audience, and the double prediction which will baffle them. The selections of both the mini poster and the playing card are quite deceptive, especially to the lay audience.
The trick is almost self-working which means you can concentrate fully on your presentation. The effect makes use of a couple of old principles and has nothing new for the seasoned magicians. However, it plays well and is highly entertaining to the audience. Is this not what a good magic effect should be? (9/10 star rating)