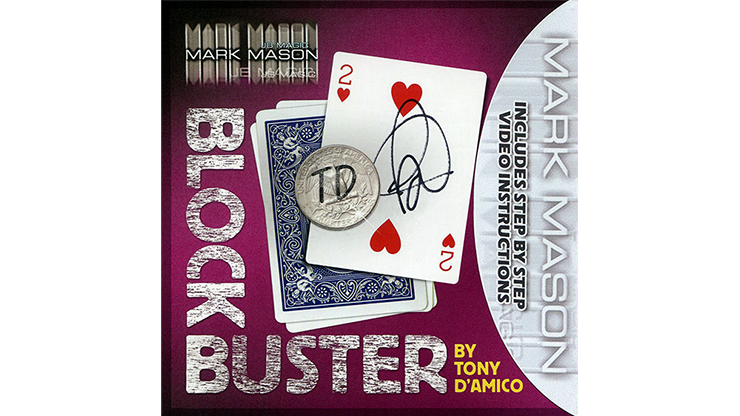 Block Buster is a card revelation effect using a coin. It is conceived by Tony D'Amico and manufactured by Mark Mason.
Here is how Mark Mason presents it. You can view it in his video promo.
He brings out a deck of cards and asks a spectator if she prefers to see a coin or a card trick. Whatever her reply, he says he will perform both.
He has a card selected and borrows a coin. To ensure that he will not accused of using a duplicate coin and card later on, he has both the coin and the card signed by the spectator.
The chosen card is shuffled back into the deck. The signed coin is placed on top of the deck. Mark takes the coin off the deck and visually vanishes it. There is now no trace of the coin. The deck is cut in half and the cut completed. The coin has vanished and the selected card is lost in the deck.
Mark asks whether the spectator prefers to find the coin or the card. Whatever is her reply, Mark turns the deck face upwards. The spectator herself cuts the deck and, lo and behold, she finds both the signed coin and chosen card staring at her in the middle of the deck! Both the signed card and coin can be examined.
You receive a hand-made block of gimmicked cards. This is supplied either in red or blue Bicycle backs. So you have to specify which when you place your order. As with all Mark Mason products, this is very well made. The gimmick looks invisible to the non-suspecting eyes and it works very smoothly.
You are also supplied with a DVD featuring Mark Mason performing and then explaining Block Buster.
You have to supply your own deck and coin (the coin can be borrowed). The gimmick is good for use with a US Quarter, UK 10P or a Singapore 50₵ or 20₵ coin.
The effect is very easy to perform, requiring only the very basic in card handling. It is straight-forward and easy for any audience to understand at what is going on at any one time. The vanish of the coin is quite visual, and does not require any sleight-of-hand. The final revelation of both the coin and card is carried out by the spectator herself. This will get a gasp of amazement from her!
There is a element of comedy in Mark's presentation as he asks whether a spectator prefer to see a coin or a card trick. At the end of the effect, the trick resets itself and is excellent for walk-about performances.
If you use a sticky label to sign on both the coin and the chosen card, both of them (assuming you provide your own coin) can be reused after the performance.
You will want to include this in your close-up repertoire. (10/10 star rating)