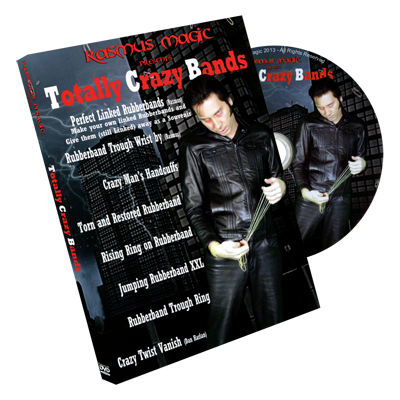 If you are a magician, people expect you to be able to perform magic with everyday objects such as rubber bands.
Totally Crazy Bands is a DVD of classic rubber band magic by Rasmus of Switzerland. Note that the DVD may not play on most standard DVD players, but only with a computer. The DVD comes with a packet of his recommended rubber bands.
The DVD features 9 effects with rubber bands. Each effect begins with a live performance and followed by the explanation. The 9 effects are:
Perfect Linked Rubber Bands – a bunch of rubber bands is placed onto a spectator's hand. She selects one rubber band for the performer. He touches this band on the bunch of rubber bands and immediately another band is linked onto it. In another version, the spectator takes 2 single rubber bands from a bunch of bands and the performer links them together.

Crazy Man's Handcuffs – 2 rubber bands, each stretched and held in each hand, are interlaced so that they cannot escape. Yet the performer is able to cause one band to melt through the other.

Rasmus' Rubber Band Through Wrist – a rubber band which is doubled up and wrapped onto the performer's wrist magically frees itself and jumps onto the spectator's wrist.

Rising Ring On Rubber Band – a rubber band is stretched at an inclined. A finger ring, placed through the lower end, travels against gravity upwards to the upper end.

Jumping Rubber Band – a rubber band, looped through the first and second fingers, mysteriously jumps onto the third and fourth fingers. This still happens despite another rubber placed across all the 4 fingers to prevent it from doing so.

Torn And Restored Rubber Band – the performer visually breaks a rubber band and immediately restores it.
Rubber Band Through Ring – a rubber band penetrates a finger ring.

Dan Harlan's Crazy Twist Vanish – it starts off like the Crazy Man's Handcuffs,

and one rubber band simply vanishes in full view.

Rasmus' Visual Link – this is a bonus effect. It starts off like the Crazy Man's

Handcuffs. Instead of one band penetrating the other band, the 2 bands become linked together.
The rubber bands that are suplied with the DVD breaks quite easily. I suspect that they have past their expiry period having been in storage for a long time.
With the exception of 3 or 4 effects, the rest can be found in standard books or videos on rubber band magic. Nevertheless, this is a good resource to learn them all in one DVD. (6/10 star rating)