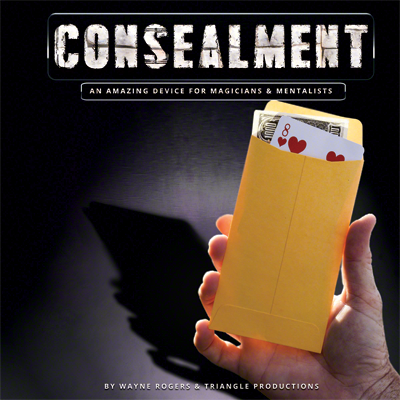 Consealment is a 2-way envelope. It is easy in construction, and deceptive in appearance. Because of its simple concept, one really wonders why nobody has thought of it before.
Wayne came out with the idea in 2008, but did not market it world-wide until now. He did publish a booklet on his 2-way envelope called "The Automatic 2-Way Prediction Envelope" in 2011. Consealment is, however, different from this envelope.
You receive 10 Consealment envelopes ready-made for immediate use, and an instructional DVD. In the DVD, Paul Romhany takes you through 12 different routines, showing the versatility of the envelope. None of them are earth-shattering in principle, but "Book Test" and "Which Hand" are worthy of consideration for your performance.
However, to use the envelope for Out To Lunch, as in the effect "Time Warp", is to defeat the purpose of Out To Lunch itself. This principle was devised to show how clean it is to for a spectator to sign the very card that is to change a little later. Consealment kills this objective as part of the card the spectator signs is not visible.
You also receive a pdf file to show you how to construct the envelope if you have used up all the 10 envelopes.
Consealment can be used for switching, transformation, outs, vanishing and appearance. This versatility, plus the deceptive appearance of the envelope, make Consealment an important tool for the magician and mentalist. This fact alone earns Conselment full marks! (9/10 stars rating.)