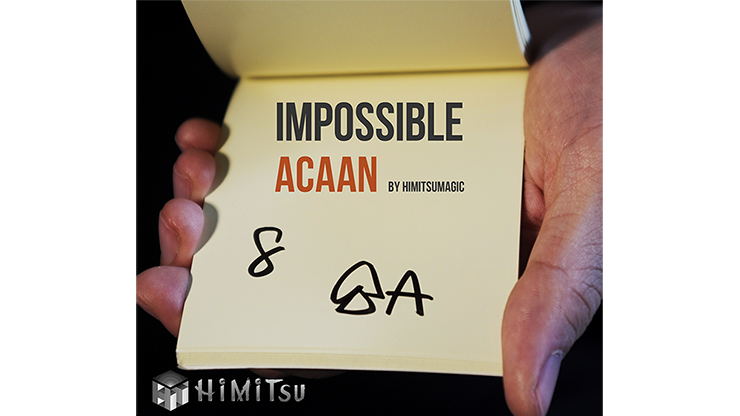 We all know what "ACAAN" stands for. It is an abbreviation for Any Card At Any Number.
This means someone names a card, and a location (ie a number between 1 to 52). A deck of cards is dealt to this number and the named card is found at this location.
In "Impossible ACAAN", a deck of cards is thoroughly shuffled by a spectator. The performer brings out a small notepad. He shows that he has written both a random number as well as a random name of a playing card on each page. Each page is shown to contain both a different number as well as a different playing card. A spectator freely flips open to any page and both the number and the card written on that page are noted. Assume they are "8" and "Ace of Spades". The spectator takes the shuffled deck and deals to the 8th card from the top. The card at this location is the Ace of Spades. The deck can be freely examined to show nothing but a deck of 52 different cards.
You get the special notepad which measures 4 inches X 3.25 inches, and a link to a video tutorial. You need to supply your own deck of playing cards.
The notepad you receive contains some 50 pages and they are all blanks. You have to write in the information yourself using a sharpie. The quality of the notepad is very good. The pages are coated with some kind of gloss so that whatever you write on them with a sharpie will not bleed through. The paper is quite stiff and this makes flipping the pages of the notepad easy and comfortable.
However, the notepad is perfect bound along the top edge with glue, like the binding used on paperback books. This means if you open out the pad flat often, some pages may become detached. You do not have to open the pad out flat in order to show the written contents of each page. You can hold the pad at the glued edge and flip the pages of the opposite end to show that each page contains a different item. Handled with care, the notepad can last a long time.
The product is a misnomer. The notepad you receive is actually an utility item used to force one out of 2 dozens different items written on the pad. It is an innocent looking item ideal for mentalists. It is for the value of this notepad that the rating is based on. The ACAAN effect is merely the usage of this notepad.
A mentalist should invest in several of these notepads in his arsenal. (9/10 star rating)