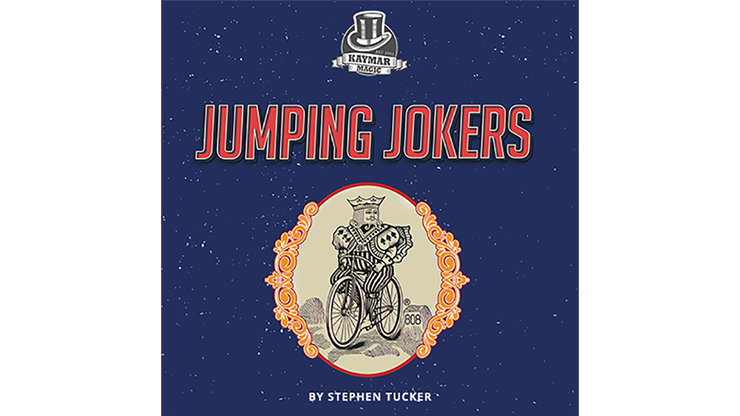 Stephen Tucker's "Jumping Jokers" enables you to take out the 2 Jokers from a deck of cards in a magical way, so that the deck can now be used to perform your favourite card magic.
In effect, a deck is shuffled by a spectator. The performer then remembers that he ought to remove the 2 Jokers from the deck before it can be used to perform card tricks.
The deck is placed face down on the table. The performer touches lightly the bottom narrow end of the deck with his right thumb and middle finger. The deck slowly and eerily cuts by itself somewhere in the middle. The card cut to is removed and proves to be a Joker.
It is time to find the second Joker.
The deck is reassembled. The performer rubs his 2 hands together rigorously to create static electricity. This time, when he touches the bottom narrow end of the deck, a card shoots out of the deck and lands somewhere on the table a distance away from the deck. It is turned over and shown to be the second Joker.
With the 2 Jokers out of the way, it is time to use the full deck to perform card magic.
You are supplied with a cleverly gimmicked Joker with a bicycle back. When purchasing, state whether you want a red or blue bicycle back card. You are also given an extra accessory to make your own gimmicked card from your own deck of cards. Instructions comprise a nicely printed booklet and a link to a Youtube video instruction.
The gimmick does not use magnets or invisible thread. The moment the 2 Jokers are taken out of the way, the entire deck is examinable. This makes a very good introductory effect using a deck of cards. It is easy to do, and the impact to the audience is great. The audience is left very much in the dark when the deck mysteirously cuts by itself, and when a card is shot out from the middle of the deck.
This effect was priously known as Jumping Jack Flash and the gimmick was included in Stehen Tucker's multi-effect DVD entitled "Whip Lash".
Although the instructions describe the gimmick being used to get rid of the 2 Jokers, the gimmick can be used in a haunted deck scenario. A card is freely selected and lost in the deck. The performer casts a spell over the deck. The deck errily cuts by itself to locate the selected card. (Rated 4.5/5 stars).