T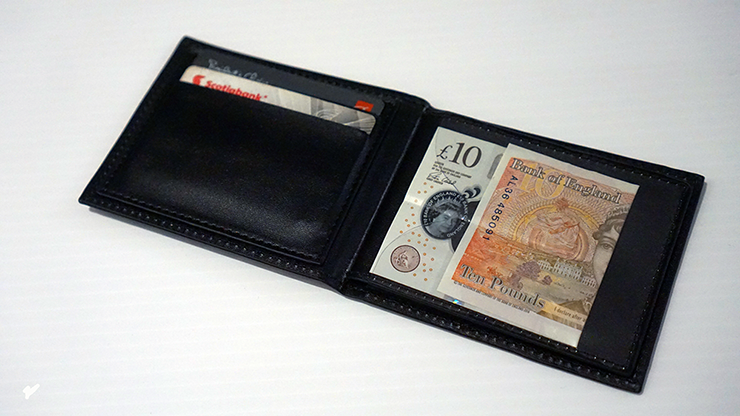 he most popular and practical gimmicked wallet for magicians has to be the Himber Wallet.
This is usually manufactured as a man's breast wallet.
The Weiser Wallet functions like a Himber Wallet, but with several differences. It is manufactured as a bifold wallet. It has compartments to hold credit cards and a window to contain folded bills or other small flat objects such as a playing card or a photograph. It has a money clip on one side of the exterior of the wallet. It also has a locking feature.
The money clip can be used to hold predictions, playing cards, and of course bills. The locking feature ensures that the gimmick of the wallet is not being accidentally exposed. A unique feature of this wallet is that it enables you to visably change an item placed inside the window to another item.
You receive this beautifully manufactured black leather wallet, and a link to a short 12 minutes video tutorial by Paul Romhany. In the video, Paul teaches you 2 effects that make use of the features of this wallet.
In the first trick, a blue back playing card is held under the money clip of the wallet. A spectator shuffles a deck of red back cards. She freely chooses one card and keeps it safe inside the wallet. The blue prediction card is shown to be, say, the ten of hearts. The card inside the wallet is taken out and shown to be also the ten of hearts.
In the seond effect, a credit or store card is held in one hand. The other hand takes the wallet and taps on this card . It magically changes into a piecce of folded bill. The wallet can be shown on all sides and there is no trace of the card.
Use this wallet as a Himber Wallet, and more!
(Rated 5/5 stars)