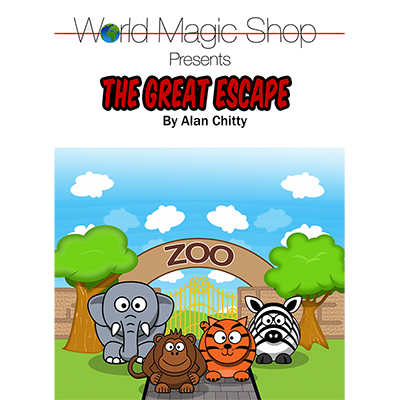 The Great Escape – no, this is not the name of the classical 1963 war epic movie that starred Steve McQueen. It is, in fact, a children's trick that involves one of 4 animals that escaped from the zoo.
Animals are not supposed to leave the zoo's ground. If an animal manages to escape from the zoo, this makes for a sensational story. It will straight away captivate the children's attention.
In effect, 4 children are invited onto the stage. Each child represents one of the 4 animals in the zoo: the elephant, zebra, mondky and tiger. Each child is given a large card depicting a colourful picture of the animal he or she represents. Much fun can be had as the other children in the audience make noises and actions associated with each of these animals.
These 4 animals intend to escape from the zoo over the course of 3 days. Which animals escaped and which got recaptured and put back to the zoo are choices to be made entirely by the children in the audience. They are in total control over what took place at the end of each of the 3 days. The ending of what happened to one of the 4 animals can therefore develop in many different ways.
Yet the outcome of the story coincides exactly with the official script contained in a large envelope that was conspicuously on display throughout the performance!
You receive the 4 large colourful animal boards, each measuring 12 X 8.5 inches. Each board shows the picture of the front of the animal on one side and its back on the other side. You also receive the prediction story and the special large prediction envelope. Instructions are in written form on 4 sheets of paper.
The instructions are concise and easily understood. The pictures are large and can be easily seen on stage, including the prediction envelope.
The trick is attractive to children as it involves animals escaping from a zoo. It also has much children's participation as they are asked to make animal noises and actions. The entire effect can last 5 to 7 minutes. The props are large and colourful. Because it involves a prediction, this effect is also suitable for audiences of all ages.
The ending can be easily changed by making and printing your own prediction.
(8/10 stars rating)